In my first term on the Sandy City Council, I have been the Taxpayer's Watchdog. I have dedicated an entire page of my website to explaining how. Please refer to the "Taxpayer's Watchdog" tab above to read more.
I believe in limited government. I believe that the role of local government is to provide services and build community. And I believe that just because local government has the authority to raise taxes, it doesn't mean we should.
I have been a watchdog for residents throughout my term on the City Council. How you ask? Most recently, by fighting against the Mayor's proposed 32% property tax increase. Additionally, I have been your watchdog in the following ways:
Established a new council policy for recurring management studies
Fought to preserve our beloved Bulk Waste program
Passed a resolution to come to voters to ask for support for a bond to rebuild Fire Station #31 rather than paying for that project via a property tax increase
When it comes to making decisions, I believe leaders in government should worry more about asking the right questions than having the right answers. If we are to fully engage our residents in the collaborative work of building the very best city possible, we must extract the genius of those around us. And to do so, we must ask bigger questions.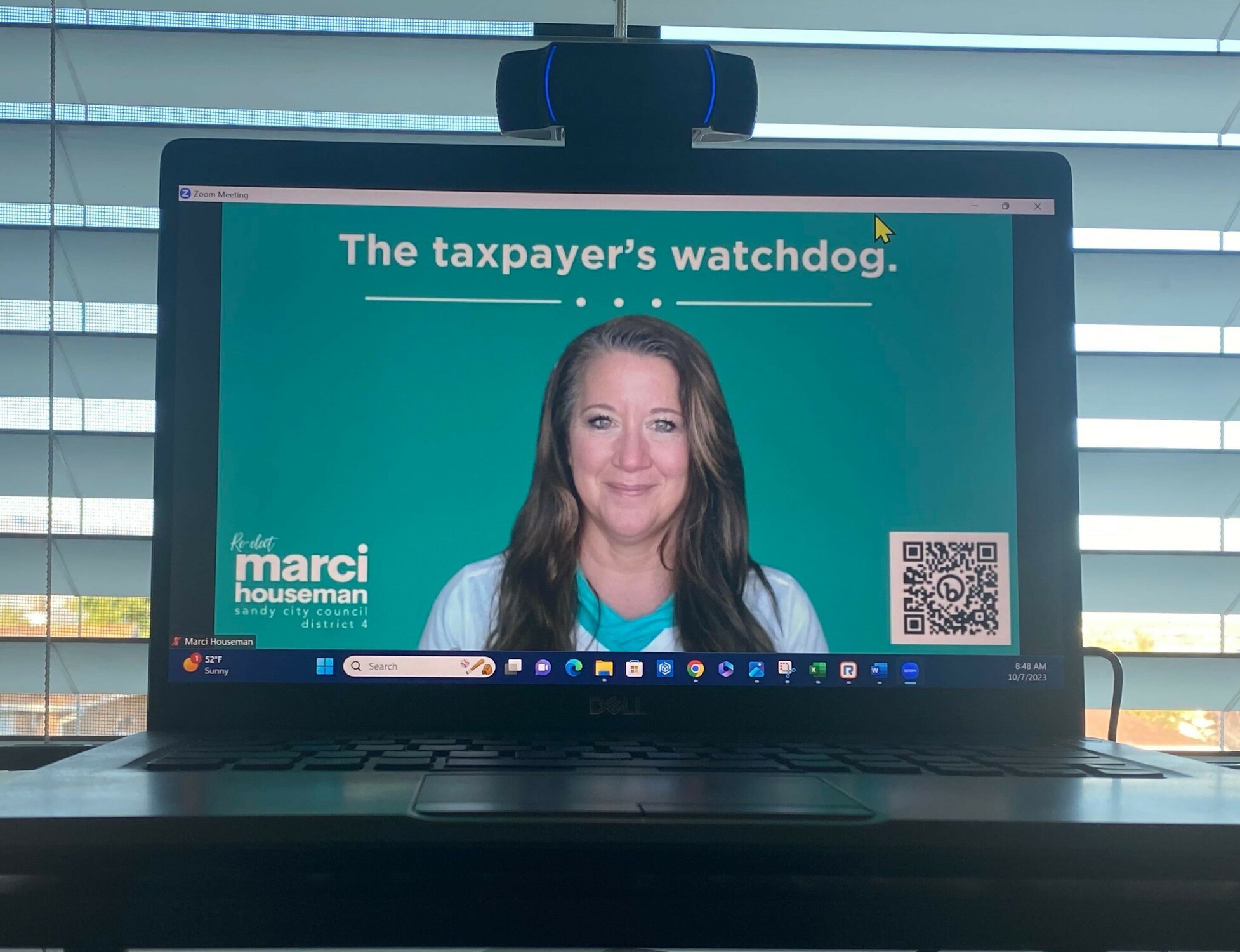 I am eager to meet with voters to discuss the issues that are important to them. Recognizing how busy you are, I offering a series of virtual Town Halls. My "Meet Marci" online events are being held Saturday mornings and Wednesday evenings. Saturday events will be from 8:30am to 9:00am. Wednesday events will be from 8:00pm to 8:30pm.
To join a Saturday event, click here. To join a Wednesday event, click here. Join when you can and stay as long as you can.
I look forward to answering your questions and learning from the insights you have to share!
Four years ago, I asked for your vote by posing several WHY questions. I am once again asking for your vote. This time, the question I want to answer is why you should once more vote for me. To answer that question, I will report back on the promises I made four years ago.
During my campaign for City Council, I identified three areas of focus for my City Council leadership. Here is a summary of how I address those focus areas over the last four years:
Address budget challenges:

Explored outcome based budgeting and encouraged data reporting that empowers residents to more fully understand the city's investments and the impact of those investments

Facilitated the adoption of a new council policy to establish recurring management studies for our departments

Advocated against the 32% property tax increase contained in the Mayor's tentative budget for FY 2024

Determine innovative solutions:

Identified the need to understand root cause of the Department of Water Quality's expressed concerns over our Bulk Waste program

Promoted investments that preserved our Bulk Waste program

Worked with fire department leaders to explore innovative ways to fund the rebuild of Fire Station #31 as well as maintain necessary 3:2 staffing

Promote effective communication and collaboration

Partnered with Utah State University to bring the Utah Wellbeing Project to Sandy - at no expense to taxpayers

Collaborated with community stakeholders to explore ways to foster more connectedness in our community

Initiated and led efforts to bring a Gold Star Families Memorial Monument to Sandy City
Now that I have reviewed some of what I have worked on over the last four years, it is time to look ahead to what my continued service will bring. I will continue my focus on these three areas and have identified specific objectives:
Address budget challenges:

Implement recurring management studies

Leverage public/private partnerships and grants to fund the rebuild of Alta Canyon Recreation Center

Explore establishing a Public Safety Service Special Revenue Fund

Determine innovative solutions

Pursue What Works Cities certification - a standard of excellence in city governance

Foster civic trust through a collaborative study of policy guides that help municipal leaders make informed decisions based on research and case studies

Build capacity in leaders within our departments through intentional study of best practices

Promote effective communication and collaboration

Continue to engage with community stakeholders through the Sandy Service Ambassadors program

Increase youth engagement in our city by working closely with our Sandy Youth Council

Implement recommendations gleaned from connectedness workshops and Sandy Wellbeing Survey Findings from 2022
I love this City and State and would be honored to continue serving on the City Council. We must do better and I will lead us down that path.
News
Saturday, October 21, 2023 7:34 AM
Management Studies
When I was first elected, I spent time researching our approach to budgeting. With my turnaround leader mindset, I knew there had to be a way to hold on to the effective aspects of our budgeting process while letting go of ineffective practices. Once I understood our current approach, I set about researching approaches that could ensure we were more effectively inviting taxpayers into the process.
My research led me to "Outcome Based Budgeting". As I learned more about this approach to budgeting, I knew it would help us make better financial decisions for taxpayers. I have studied the implementation of Outcome Based Budgeting in various cities and am committed to moving more fully towards this approach. A great summary of one city's approach to Outcome Based Budgeting is provided in this video.
On May 9, 2023 I introduced a first step towards Outcome Based Budgeting - a resolution to bring management studies back to our city. Here is the messaging I shared with my council colleagues when introducing this resolution:
1. Our community deserves to see its local government chasing continuous improvement. Local government impact residents very directly. The more we model best practices in fiscal oversight, the more trust we build within our community. We continually have "outside eyes" conduct financial audits with glowing results. I am so grateful for everything our teams do to contribute to that important process. Similarly, there is value in having "outside eyes" take a look at our use of resources and staff. As a consultant, I provide "outside eyes" to leadership teams in education. I help them celebrate what is working and improve what is not. I help them discover opportunities they may not have identified on their own. I often share the example of the potted plant on my front porch. I pass it every day and overlook it...it was dead for months and I simply stopped seeing it. It took the "outside eyes" of a friend who noticed the plant and asked about it for me to realize that it was time to remove the plant which had become an eye sore. I simply stopped seeing it because it was a part of my every day experience. I am confident that our community will appreciate our efforts to have "outside eyes" partner with us in discovering efficiencies that are working as well as opportunities to improve.
2. Our department heads work hard to oversee their budgets and advocate for departmental needs. They collect and analyze data to determine priorities. The define action plans for addressing those priorities. And yet, they potentially feel like they are alone in their advocacy. "Outside eyes" can provide additional data that reinforces the identified priorities. As future budgets are deliberated, a triangulation of internal and external data will give our department heads clear and compelling reasoning to support them in their advocacy. A recurring approach to management studies will set in motion a reliable partnership that will set department heads up for success as they prepare their budgets.
On May 30, 2023, my council colleagues voted to support my efforts to bring management studies to our city. You can watch our May 30th discussion of management studies here.
Here is our council defined purpose for management studies:
"For the City Council to be appropriately informed that each department has adequate resources, organizational structure, and staffing levels it is essential the Council uses its powers, as outlined in Utah Code 10-3b-203, to periodically review municipal administration. In order to properly review municipal administration and to make prudent decisions related to appropriations and legislative policy the Council shall involve a third-party subject matter expert to perform periodic administrative management studies of each department."
Here is our council defined outcome for management studies:
"The management study reports will be used by both the City Council, the Administration, and the department to provide information and context for ensuing organizational planning, personnel decisions, and budget requests. In addition to the benefits provided to each department, elected officials, and city leadership, Sandy residents will benefit from enhanced trust that each city department is being effective and efficient with their tax dollars."
As your watchdog, I am committed to embracing the best practices of budgeting - which includes budgeting with outcomes in mind. The outcomes we achieve for you are a true measure of our leadership.
---
Saturday, October 7, 2023 8:00 AM
Fire Station #31
Recently, I met with seniors at the Sandy Senior Center and a question came up about the bond for Fire Station #31. When the City Council began discussing the challenges our fire department was facing, the need for a new fire station surfaced as a top priority. As such, I quickly became a strong advocate for rebuilding the station. I recognized the need to provide a safe working environment for the members of our fire department who experience the station as their second home. I embraced the need for a station that would house the type of ladder trucks that are necessary should a fire occur in one of the taller buildings located downtown.
When the mayor proposed her budget, bonding for Fire Station #31 was included in the property tax she wanted to impose on Sandy City residents. The tax increase would continue into perpetuity unless the City Council took action to revoke the tax increase once the bond was paid off.
I was opposed to this approach to bonding for Fire Station #31. You should decide if you are willing to pay more in taxes to rebuild the station. A tax increase should not be forced upon you. Additionally, I wanted the bond to sunset once it is paid off. In other words, the tax increase would automatically end. No action would be needed.
In an effort to fight for taxpayers, I brought forward a resolution for a General Obligation Bond. Gratefully, my resolution was supported by a majority of my colleagues on the City Council and the revenue bond proposed by the mayor in her budget was removed. Because of my efforts and the support of a majority of my colleagues, you will have the opportunity to vote on a ballot proposition to build a new fire station. You can read more about that ballot proposition here.
I will continue to advocate for sound policy that protects the taxpayer while addressing the needs of the city.
---
Saturday, September 23, 2023 9:00 AM
Proud to have led the charge to support our first responders without raising taxes.
I unequivocally support our first responders. That is why during this year's budget deliberations, I proposed a cost of living increase, a market increase and a step & grade pay plan to support our first responders without raising taxes on families impacted by inflation, seniors with a fixed income and single parent households.
Understanding the pressing need for a new fire station to replace our current station #31, I passed a resolution to come before voters for funding via a general obligation bond. Voters will see this bond on the ballot in November.
Additionally, I championed the following investments in our police and fire departments:
$1.94 million mid fiscal year investment in a compensation plan to increase pay for our police department with a $2.26 million investment every year since
$1.17 million in the fire department payroll to be used for staffing
Step and grade increases for the sworn officers in our police and fire departments
Increased overall compensation by 9%
Finally, one aspect of the investment the city makes in employee wellness (including first responders) is paying 100% of the cost of insurance premiums for the employee as well as any dependents. This commitment to the wellness of our employees is a significant investment and is likely unmatched in the private sector. I am committed to continuing this type of complete coverage.
I am grateful to first responders and their families for the service they provide to residents. As a city leader, safety is my top priority. I am committed to supporting first responders through a competitive compensation plan without unnecessarily raising taxes on the members of the community who are struggling under the weight of inflation.
---
Wednesday, June 7, 2023 12:00 AM
Considering our recent budget conversations, the article I have linked here is very timely. Our City Council inboxes have been flooded with emails expressing outright anxiety and frustration over the 32% property tax increase that is included in the Mayor's tentative budget. The emails are breaking my heart. Residents overwhelmingly acknowledge that a $9/month increase may seem small but that increase does not take into account the recent water rate increase and the increases put in place by other taxing authorities. People are expressing outrage and fear.
My heart hurts for the alarm the Mayor's proposed property tax increase has caused.
If you have thoughts to share, please use our city council email to share them. Your email will be sent to all seven city council members.
City Council email: citizencomment@sandy.utah.gov
You can also join a City Council Meeting and share your thoughts during the public comment portion of our meeting. Meetings begin at 5:15pm. You can check out our meeting calendar
here
.
During the May 30th Sandy City Council meeting, we opened the Public Hearing on the Mayor's tentative budget. Currently, the City Council is expected to vote to adopt the final budget during our meeting on June 20th.
In my June City Council
newsletter
, I share my recommendations for revisions to the tentative budget. I have and will bring these recommendations to my council colleagues. If you would like to start receiving my City Council newsletters, please let me know by sending me an email at mhouseman@sandy.utah.gov.
The Mayor wants to increase property taxes by 32%. Sandy City recently raised water rates. And members of our community are suffering because of inflation and other negative financial impacts. Though a property tax increase may be needed in the future, now is not the time to raise property taxes.